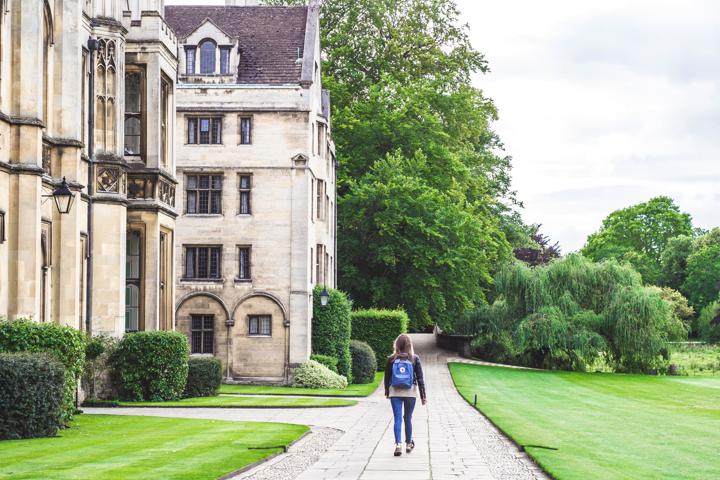 by Abby - a student at Duke University
This is part of a series of guest posts by students and recent college graduates
---
What is academic coaching, and why is it important?
I didn't recognize the importance of academic resource centers and student support organizations until I began attending university. As a recently matriculated freshman at Duke, the academic resource center became a haven of answers as I tried to acclimate to what the next four years would look like. I quickly realized that it didn't end after getting accepted. Surviving, and excelling, for the next four years is what I needed to do.
In high school, life is full of structure and stability. Your class schedules are made for you, you're told when to eat lunch and breakfast, and you need to ask permission to use the bathroom. But, then, the rug is swept from under your feet in college. Suddenly, you're doing your laundry, your parents are a five-hour flight away, and math does not look anything like it did when you were in high school.
I quickly realized that it didn't end after getting accepted. Surviving, and excelling, for the next four years is what I needed to do.
During the start of my academic career, I paid frequent visits to our Academic Resource Center (ARC), located on our freshman campus. I visited the ARC for many consultations to decide my major, learn how to best study for my math tests, and connect with upperclassmen. Academic resource centers and academic coaches exist to remedy the effects of the drastic change in pace from high school to college. Everyone needs a little help navigating their paths and learning to be the best possible student in an academically rigorous environment. Academic coaching is personal and constructive, as it helps students examine their academic concerns and develop plans of action to thrive academically through a one-on-one process.
Given my experiences as a college student, I was invited to be one of the couple dozen students to provide feedback on my experience using Cartemo (formerly StudyBot) the app and also opted to share my opinion through this post.
What is Cartemo?
Cartemo is an academic coaching application designed to help college students build on skills needed to succeed academically. The personalized chatbot won't help you write an essay on the relationship between race and the media or determine whether a function is differentiable or not. However, it can give you the general outline of a strong essay, highlight the skills needed for problem-solving, and provide a plethora of academic resources that most students wouldn't be able to access. Giving students a launching pad and building their ideas is a lot more efficient than having a student start from scratch, and an application like Cartemo facilitates the process.
As an easily accessible product at the tip of your fingers, Cartemo can supplement academic resource centers and student support organizations in guiding college students to be successful. As a companion app to academic resource centers, Cartemo is a highly functional application on hand when academic resource centers aren't operating. It's available 24/7 and designed for daily use, and can address general issues and concerns that wouldn't necessarily need an in-person consultation.
With short daily lessons supported by research-based learning science, students improve their study habits by learning about concepts like growth mindset, active learning, time management, self-advocacy, habit development, etc. As a tester for Cartemo, I tested the developing product for a week and can confidently say that the product has a lot of potential to help college students.
Why is Cartemo useful?
I developed the study skills and habits necessary to be a successful student thanks to support from my parents, a  supportive community, and an engaging learning environment. Unfortunately, many students, especially underrepresented students like first-generation and low-income college students, aren't as lucky as I was. 
While underrepresented students are just as bright as their peers, the lack of resources and support systems can disadvantage them. Over the years, I've tutored many students from elementary school to high school. Despite age or race, I quickly noticed that the differentiating factor between successful and unsuccessful students was their access to the "hidden curriculum" of college. Unfortunately, this is the reality of things; a student who had both parents attend four-year universities and earned their degrees did better academically than the student with an immigrant single mother.
This is where Cartemo comes into play. As a supplementing resource to student support offices and academic resource centers, the application can help students develop and expand the study skills needed to prosper. So many underrepresented students weren't taught how to be good students, and Cartemo can aid students in their journeys of becoming one. 
I've never seen or used an academic coaching app like Cartemo before and was pleasantly surprised by what it could do. Students can use a plethora of educational apps, but they usually only have one purpose (ex., an academic planner, a timed study session). I was impressed by how interactive and multifunctional Cartemo is, mainly because it vitalizes a need in the community.
These are crucial skills in professional settings, personal ventures, and any sphere of life.
Beyond being a quirky, virtual academic coach, Cartemo pushed me to reflect on my study habits and academic standing. The app wasn't telling me to study more or manage my time better. Instead, it utilized active habit-building techniques by making me set goals, write reflections, and plan out my days. Not only does the application teach you how to be a better student, but it makes you an accountable one as well. As I went through Cartemo's academic wellness modules and lessons, it encouraged me to sit and think about what kind of student I was and how I could be a better one. 
It's also important to note that Cartemo builds upon essential skills beyond school. Time management, critical thinking, and a growth mindset are not exclusively applicable in academics. These are crucial skills in professional settings, personal ventures, and any sphere of life.
Future possibilities
Though the application is still under construction and can improve a lot during its early stages, I recognize the potential of Cartemo for students. It can survey the needs of college students and serve as a throughput for communication between the student body and academic resource centers. If enough students are on the application, it could potentially subdivide students according to university and connect upperclassmen with lowerclassmen and peers. Maybe it will develop to address students' academic and mental health concerns. 
I'm keen to see how Cartemo continues to develop, and I've shared other recommendations with the Cartemo team that I hope to see implemented in future versions. It's a resource I will share with my students and peers because it confronts the discrepancy between resources available for underrepresented students and represented students.
---
Guest writers were compensated for sharing their experience. Cartemo was originally used under the name StudyBot and this post has been updated to reflect the new name.